"With a father's heart: that is how Joseph loved Jesus, whom all four Gospels refer to as 'the son of Joseph'"
(Apostolic Letter Patris Cordes, Pop Francis)
On the threshold of celebrating the Lord's Christmas, in December of 2020, our Pope Francis proclaimed a whole year dedicated to St. Joseph, the adoptive father of Jesus. According to the Pope, this year of St. Joseph aims to: increase our love for this great Saint, feel impelled to implore his intercession and imitate his virtues.
Motivated by this invitation from our pastor, this June 2021, we promoted a formative moment on Devotion to St. Joseph in our Congregation for all our postulants, novices and juniors, through online meetings, with the presence of our Mother General, Lina Maria Girotto, of the General Councillors, Maria das Dores Paz and Gleicy Kelly Rocha and of the mistrees Sisters who accompany these young women.
The sharing of the theme deepened how this devotion was lived by our Foundresses and our first Sisters, how the official documents of the Congregation deal with the theme, how our Superiors General encourage and motivate our Sisters to deepen ever more the preciousness of this devotion and the commitment that each one of us today has before the person of St. Joseph.
It was really a very rich moment of sharing and mutual enrichment. During the entire duration of the presentation of the theme, our formands had the opportunity to ask questions and share their own experiences.
May Saint Joseph, an example of trusting abandonment in Divine Providence, intercede for us so that we may be faithful to God's plan as he was.
We took advantage of this space to introduce all our FORMANDS and ask prayers for them, through the intercession of St. Joseph.
For me it was a learning experience and a great encouragement in face of everything I've heard about Saint Joseph and that I've witnessed. The affection, faith and witness of the elderly Sisters motivated me even more to know and deepen the life of Saint Joseph. Saint Joseph will always be God's chosen as providence for the care of Mary and Jesus, and that today we are witnesses of fidelity to God's plan.

Sister Ediléia
In the life of our Congregation, the Sisters, from the beginning, have always resorted to the protection of St. Joseph. He is, venerated for his example of total abandonment to Divine Providence and is trusted as a guard and protector.

Even today, every Wednesday, the Sisters, in prayer, invoke his help.

Sister Leonor
With joy, we had the grace to participate in the formation of the Interprovincial Juniorate, learning and remembering the Devotion to Joseph in our Institute of the Benedictine Sisters of Divine Providence. For me, it was a very special moment, as we were able to see how the Sisters, from the beginning of the Congregation, nurtured a special veneration for this Saint. A fact that we could verify through documents, constitutions, prayer books and Sisters who lived this devotion intensely, such as: Sister Faustina Oldani, Sister Maurizia Laboranti and Sister Maria Stefanina Cei. In addition, the Letters of our Mothers General who always invited us to look to Saint Joseph, as a model and inspiration, highlighting some characteristics according to the time and the demands of each period. Thank you Sister Gleicy Kelly Rocha for the initiative.

Sister Poliana
Dear Sisters and friends! What a grace it has been for all of us to have a year dedicated to St. Joseph, our beloved adoptive father. When I read Pope Francis' Apostolic Letter Patris Corde, I was even more delighted with St. Joseph, the father of tenderness, obedience, creative courage and so many other virtues presented. However, when we studied about St. Joseph in the history of our Congregation, I could contemplate a close father who has been helping us in our daily lives, and I also noticed the affection of our sisters, whether in documents or in the experience towards him. He became even closer to my heart.

In addition, it was fantastic to interact with the Junior Sisters from the Province Divine Providence, to get to know them and hear some stories that they have experienced with other sisters and St. Joseph. I am very grateful for the opportunity to learn about the congregation and to love it even more. May Mary and Giustina Schiapparoli lead us along the way following faithfully Christ.

Sister Mayara
On June 22nd, we, juniors had the grace to have a moment of Formation about the Devotion to St. Joseph with Sr. Gleicy Kelly Rocha, Sr. Maria das Dores and our General Mother Sr. Lina Maria Girotto.

What was strongest for me was the fact that it strengthened the importance of the presence of St Joseph in our lives as Benedictine Sisters of Divine Providence, since we often invoke him as guardian and protector because he was custodian of the child Jesus, of light himself, with love and trust he knew how to abandon himself into the arms of the Father, allowing himself to be led by his will and love.

To perceive this look in our history is very gratifying, it is the figure of a man, like us, who empties himself to walk the paths marked out by God, taking Christ himself with him. Our Foundresses and Sisters understood this very well, because he is always present in our lives, interceding for the needs of his daughters. I would like to mention here, Sister Faustina Oldani, who is for many a great example of a Mother and Teacher who was able to witness with her life the spirit of faith, sacrifice and prayer; some of the virtues of her great friend St Joseph, to whom she attended to with singular affection.

May St. Joseph teach us to accept more and more the will of God in our lives, to perceive his love for each one of us and above all to be aware of the light that we carry within us and which is Christ himself. May the footsteps left by our Sisters encourage us to make our life a prayer that challenges us to go out to meet others, placing ourselves at the service of others as St. Joseph did, carrying Jesus in his arms and setting out on the way in the company of the Virgin Mary.

Sister Julieta
St. Joseph always welcomed the will of God in his life and did it fully… In the life of our Congregation, the sisters, since their origins, have always resorted to the protection of St Joseph.  He is particularly revered for his example of total abandonment to Divine Providence, with the houses and communities of the congregation being entrusted to him as guard and protection. While I was reflecting on this words, I am very grateful to him because I myself entrusted to believe his miraculous and the protection of our Family's members. As I was knowing a little bit about the history of his life I entrusted myself to venerate him. "Lord, no eye has seen, on ear has heard, no heart has conceived the things you have prepared for those who love you… Set us ablaze with the fire of the Holy Spirit, that we may love you in and above all things and so receive the rewards you have promised us."

Sister Narmada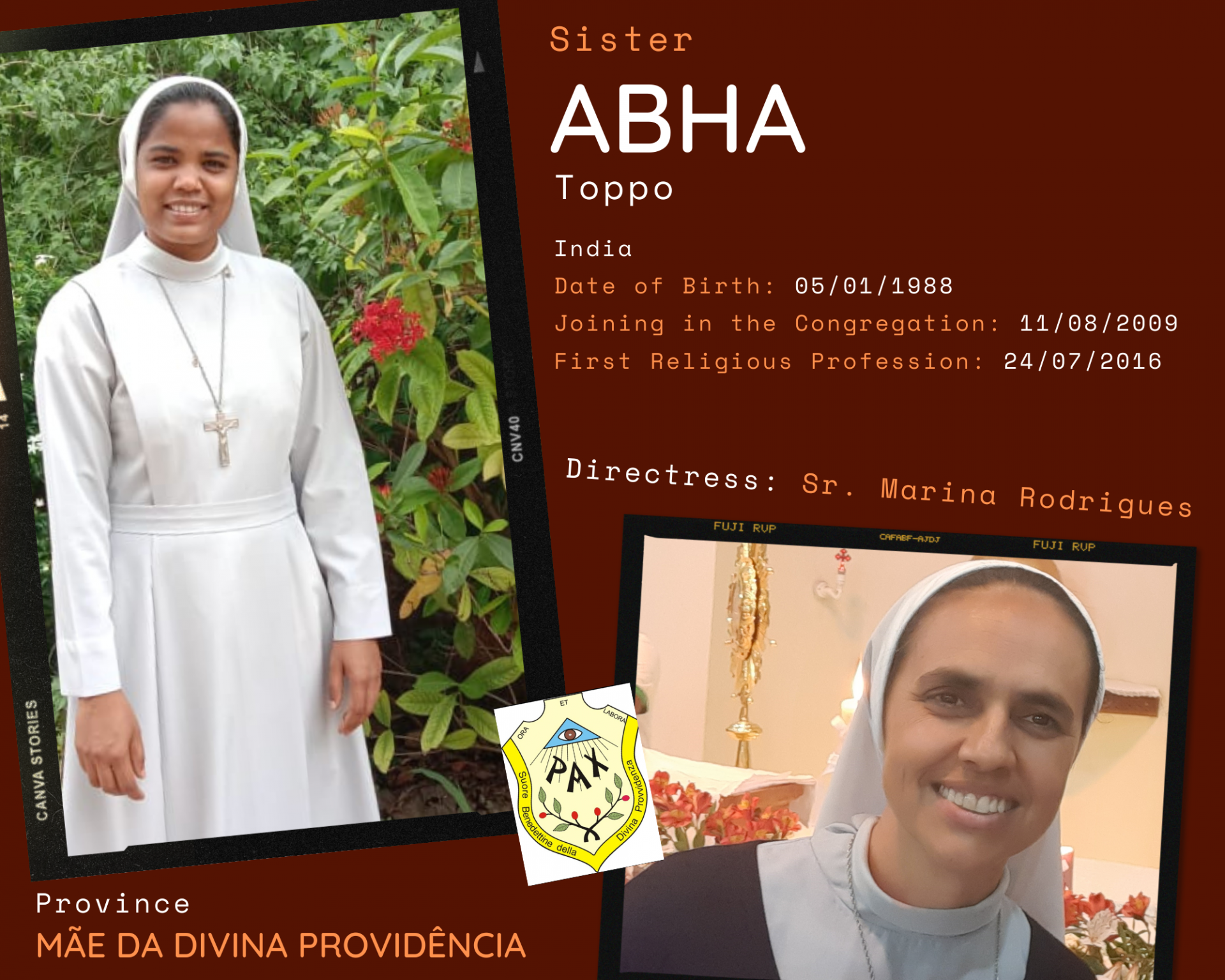 From the formation on devotion to St. Joseph in our congregation, my love and devotion increased to St. Joseph. It was precious moment for me to know about him and to learn from his life to cultivate his virtues in my daily life.

Aslo through this formation I could see and and feel, the experience of our foundress and Sisters about St. Joseph in our Congregation. The experience of our Sisters helps me to understand more clearly about him.

Irmã Abha

In the life St. Joseph, for me touched more and became strong was his obedience to will of God.

St. Joseph the foster father of Jesus didn't feel any laziness or emptiness I could feel that his heart was filled with joy, he was very happy to care about Mary and Jesus.

When the angel appeared in a dream and gave message to go to Egypt he didn't think why should bear all these struggles in the dark and in walking in Hill but simply obeyed and depended on God, that God would do something. Here I could draw from the life of St. Joseph the obedience and depending on God,. God has called me to experience his love and compassion in my mission and community.

In each responsibility that was given to me, God is there to guide me and bless me to obey the will of God in my life.

Through my formation to St. Joseph I learned to welcome the will God in my life and to have more faith in him.

The class all helped me to have experiences with his love and also to increase my devotion to St. Joseph.

Thank you Sister for helping me, and guide me.

Sister Mary
First of all I am very happy and glad to have Some classes about the devotion to St. Joseph in our congregation. It was indeed great and wonderful experiences that, I came to know, the presence of St. Joseph in the history of our congregation at the times of needs of our sisters and in difficult moments.

More significant and the touching thing for me , is when our mother Giustina received a painting gift of St. Joseph on March  19, 1864, from Monsignor Giuseppe Reguzzi , in gratitude for the prayers made for his healing.

It was a good and beautiful to draw devotion to St. Joseph from our foundresses and made me, more to cultivate my devotion to St. Joseph and feel his loving presence as my loving father.

Sister Anusha

There are several things that have touched me about St. Joseph. Here I'm going to share some of them:

The dream of St. Joseph. Especially the moment that he let himself to be guided by God in everything. Welcoming with fidelity the project of God. I learned to live the will of God with faith and being faithful on my vocation.
St. Joseph was living for others and not for himself. I mentioned this point because it serves even in our community life. We are called to live for others and not for ourselves. Helping others to live in well in the name of God. St. Joseph lived the community life.
The fidelity of St. Joseph in time of troubles. The time that he went to Jerusalem to search for Jesus in the Temple and the time that Mary was about to give birth, and there was no place for her to bear child Jesus. In all situations, Joseph was present. He was persistent and faithful in God's will.

In my daily living I ask God this grace of fidelity in all I do. Because is what helps me to testimony what God kept in me to live in his mission.

The devotion of St. Joseph.

Before I didn't have the devotion of St. Joseph as I have today. People were commenting more about the graces that were receiving through the intercessions of St. Joseph. For me, it was like history. Today, I'm one of devotes of St. Joseph because now I know who is he, through the prayers and formation that we had about his life in our church and our Congregation.

Sister Prisca
Dear Sisters, Formandas and members of the Benedictine Spiritual Family, it is with great gratitude that I share with you all the experiences I had of St. Joseph, through formation with Sister Gleicy Kelly Rocha.

The Holy Father Pope Francis, inspired by God, instituted this year 2021 as the Josephine Year, so that all Catholic faithful can experience the mysteries of the life of this great Patron of the Church in a profound way.

Sister Gleicy Kelly Rocha, concerned with the women in formation, decided to deepen with us the life of this great saint and his devotion in our Congregation.

We have seen that, in the life of our Congregation, from the beginning, the Sisters have always resorted to the protection of St. Joseph. He is particularly venerated for his example of total abandonment to Divine Providence.

Many of our Sisters clung to this great Saint who never let them down when they turned to Him. I had the grace to live with some of these Sisters and I was able to cultivate my devotion to this Saint. In fact, Saint Joseph surprises me every day, through his subtle presence in my life.

My greatest desire was to make the interior silence, but I never managed. When I discovered that Saint Joseph is the Saint of Silence, I started to invoke him in this sense. I was surprised at myself, because I'm managing to make a fantastic inner silence, thanks to Him.

St. Joseph's silent faith gave meaning to every event in his life, both happy and sad.

Dear Sisters, it is worth cultivating devotion to this great Saint, because he never disappoints those who trust in him.

Novice Ana Na Man
* St. Joseph is the Patron Saint of the Universal Church.

* Our Congregation Sisters since their originals have always restored to the protection of St. Joseph.

* Our Sisters have a deep devotion to St. Joseph.

* Our constitution, the biography of mother Maria and Giustina Schiapparoli their devotion to St. Joseph, trusting in Divine providence, their simple city, active ness, made me strong to live our Foundress spirituality.

* And to have good relationship with sisters and cultivating silence and being obedient to them.

Novice Mamatha
* St. Joseph is a Patron Saint of the Universal Church.

* St. Joseph is model for me, I have cultivated great Devotion in his person.

* I have reflected St. Joseph as my protector, guardian, and one who fulfils responsibility which he has received from God.

* When I reflect on the life of St. Joseph I also ask myself what responsibility God has planned for me in, my life.

* As this year is dedicated to St. Joseph, through his intercession, I ask God to make me more faithful to fulfill God's plan in my life, as St. Joseph was.

I have image of St. Joseph when I get problem or anything I need I write on a slip and keep under his feet it, so St. Joseph dreams and it happened many things successful in my prayers. Through St. Joseph I learned obedience, silence, truthfulness.

Novice Geetha
The fore sisters trusted in St. Joseph and really he was faithful to them and they depended on him for numbers of reason. St. Joseph was a strong and present saint in the life of the communities that they depended on his protection. St. Joseph gives me an inspiration to live a life of silence for he realized that in silence he encountered God and himself. The witnessing of sisters confessions about St. Joseph gave me motivation towards practicing the same devotion. St. Joseph was a saint of prayer; so he gives me an example of putting prayer beforehand on account of everything else.

Novice Sujan
From the formation of the Devotion of St. Joseph in our congregation, what was stronger for me, more significant that touched me deeply.

* The special gift. The painting of St. Joseph given to Maria Giustina Schiapparoli from Monsignor Giuseppe Reguzzi in gratitude for the prayers made for his healing touched me deeply because it shows that the devotion of the sisters to St. Joseph was well known and they expressed it throughout and in their mission. The printing carries a very great significant in our congregation for it shows that every good or action will never go unrepaid.

* The story of sister Faustina and how she was provided with money to pay the bill – A  miracle performed by God through St. Joseph whom she had a strong devotion in. the story teaches and encourages me in my devotion to St. Joseph and has also increases my faith in him as our patron saint.

* The words of mother Clara Venturini about St. Joseph teaches me that I don't have to hear much from people to be who I am or who am called to be- what matters and what should matter is what God talking and wanting of me as a novice just like St. Joseph.

Novice Mary
From the formation on devotion to St. Joseph in our congregation, what was stronger for me, more significant that touched me deeply?  "The love and peace of God dwell in my heart". During the formation I learned several things about São José. That our Congregation has great devotion to him; from the time of our Foundresses until today.

To him we entrust our homes and the communities of the Congregation, as guard and protector. He is revered for his example of total abandonment to divine providence. Our Sisters have great love for him. Everything is placed under his protection. For me what was stronger, more significant, which touched me deeply about this Saint of the Church is his simplicity of life, humility to see things and action with love in his heart. Everything speaks in the silence of Saint Joseph, what remained in my mind was this phrase: "It is in silence that one acts".

Postulant Sofy
From the Formation on Devotion to Saint Joseph in our Congregation, what caught my attention the most was to see the devotion of our Sisters to Saint Joseph, the love, the surrender, the trust. It's also interesting because St. Joseph is much more than Jesus' adoptive father. When Pope Francis proclaims this year 20l21 as the Josephine year, the aim is to lead us to meditate more on this great Saint and Patron of the Catholic Church. He has many wonderful virtues that deserve to be reflected and experienced in our lives. If Jesus became a great man, it was thanks to Saint Joseph his father, who taught him to be a just, prudent and prayerful man. I enjoyed knowing more about this great Saint and it helped me to further increase my devotion to him.I thank the Sisters for their affection in preparing this Formation for us.

God bless you!

Postulant Marta
Since I joined the Congregation, I have always heard the Sisters talk a lot about St. Joseph, but it seemed so far from our charism, of being Benedictine.

I heard that he was the caretaker of the house, because whenever we went out, one of the Sisters would say: "Saint Joseph, take care of our house". Until once I heard from dear Sister Clara Venturini these words: "Saint Joseph is the man of silence, the man of trusting abandonment in Divine Providence".

And she often said that phrase, but I just listened to it. I didn't care too much. And when Pope Francis dedicated this year to Saint Joseph, where more characteristics of this Saint were presented, in that moment I could really understand why the Sisters always asked for his protection, his intercession and I could really understand better this characteristic of trusting abandonment to the Divine Providence he lived.

Through the formation with Sister Gleicy, this was further grounded and really lightened and rekindled the flame of devotion in this great saint.

This formative moment was very good, very favourable and very rich! Sharing stories, legacies that were left by our Foundresses and first Sisters, strengthened our devotion and also our vocational path, which, like St. Joseph, we do not always understand. We learn from this Saint that it is necessary to trust in the One who gives us the mission!

The formation ended leaving a taste of repeat in each of us!

Postulant Maria Antônia
From the formation of Devotion of St Joseph in our congregation: what was stronger and touched deeply was that, from the birth of our congregation, after the seed had been planted in our foundresses Maria  and Giustina, St Joseph has been a powerful protector and a guard of it. As good farmer he has those wonderful virtue to me his daughter, to imitate and translate into the dedication to those the Lord places in my path. It was very interesting to me that St. Joseph had total abandonment to Divine Providence, accepts the will of God that manifests himself in an inexplicable, irrational way, and dedicates himself totally to the son of God, in a strange and mysterious way. Through St. Joseph a role model to those who entreat him, I got encourage in my vocation and a call to follow Christ more closely in religious life, as he always remained united with God.Lastly from the formation, it was significant to me that through St. Joseph everything is possible. Monsignor Reguzzi receive the healing through the prayers made to St. Joseph.

Postulant Linet
What was strong for me was the special gift of the portrait of St Joseph, from Monsignor Giuseppe Reguzzi to our foundresses. It was received long time ago, but to its reverence, is still kept up to date. It shows how strongly they were to St Joseph and respect they rendered to him.

Something I love and cherish cannot go away from my hands or do anything bad to it or forget it, I will always keep it within my heart.

I should not forget St Joseph in my life, I have to cultivate strong devotion to him, who is ready to intercede to me in any situation of life I will be, and he will always protect and pray for me through the Divine Providence that he did to his family at Nazareth.

The faithfulness of the sisters who are still keeping the picture of St. Joseph to date, give me a change that I should always be faithful to what our foundresses wanted/ said. A push to fidelity to the charim of the congregation, living the charism in my every small duties of life.

This has also seen from the words of our superior generals who are always reminding and encouraging us of cultivating strong devotion to St Joseph daily. This pushes me to increase my love to St. Joseph, to feel that am proved, encouraged to implore the intercession of St Joseph and imitate his virtues forever in my life.

Postulant Violet
For me the stronger point about St. Joseph was, he is protector for me. And he was obedient person. He did always the will of God. Therefore, his obedient touched me deeply. We are blessed ones to have St. Joseph as our Protector to our Congregation. I ask his help so that I will increase my love for him.

Postulant Vereesha
From the formation on devotion to St. Joseph in our Congregation, stronger for me was he is faithful and obedient person. And he did the will of God. He is protector in my life. I want to increase my love and devotion to him.

Postulant Alekhya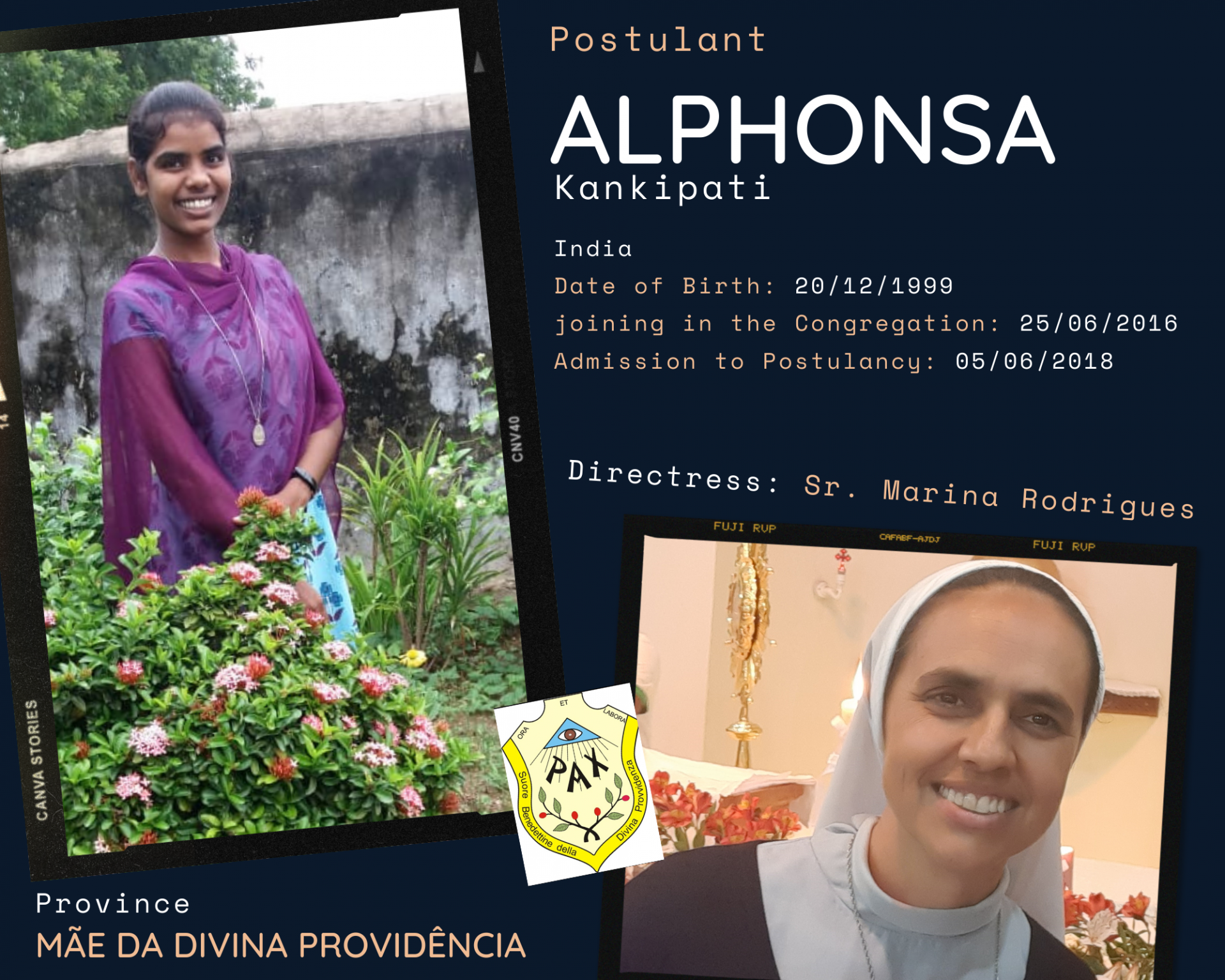 In this formation about St. Joseph, what touched me was, he was obedient, faithful and humble. He believed God's message through his dreams. Through his love and care Jesus grown up in wisdom and knowledge.

I ask the intercession of St. Joseph so that I will grow in faith and in spiritual life.

Postulant Alphonsa
In the formation about St. Joseph I experienced that he is my dad in my life. I hope, he will help me. I like his care and love for Jesus. St. Joseph is presented to us as an example of total abandonment to Devine Providence. I ask him to help and give the courage to have faith in God. May he help me to be simple and humble in my vocation.

Postulant Jyothsna