"Listen, son the teachings of the Master"
(Prologous Rule St Benedict )
Every year we celebrate our Father St Benedict, exalting his holiness, his miracles, his example, his Rule and his powerful intercession.
The Divine Providence, in this year 2021, presented us (Sister Ivone Saldanha, Sister Gleicy Kelly Rocha e Sister Maria das Dores Paz) with an unexpected dip in the spirituality of St Benedict, exactly on 11 of July, in the Benedictine Basilica in Subiaco. All this, happen thanks to the kindness of a couple of friends from our parish, Bruno and Maria Franca Latini, here in Rome, who generously presented us with this tour.
Impressive, that morning, to see the influx also of young people, children and adults, facing the strong warmth and challenges of the rise of the "Sacro Speco" to  contemplate the wonders operated by the Patron of Europe: "Listen, son the teachings of the Master".  There, where everthing began, even today, the strong and real presence of the Holy Patriarch continues to attract big and small, literate and simple.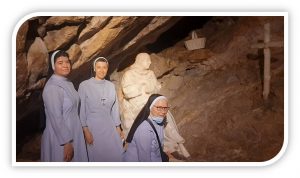 It was really a grace to be in that cave, where the man of God, in silence and fasting, for three years, let himself be transformed. The fame of his holiness spread and attract many others to the follow Jesus.  In fact, Benedict was, totally configured by Master Jesus, incarnated the Word in his life, with such certainty that it goes through the centuries.
After the solemn celebration of Holy Mass, celebrated by the Monk Ignacio of Loyola, we walked through the corridors and halls contemplating, through frescoes, the strength of the pious and upright man, lover of truth and fraternity.  Almost 1.500 years have passed since his death, but his presence, always can fell, by the force of his evangelical Rule, as an imam, invites everyone to immerse themselves in the Divine Providence that was the engine of St Benedict's life: In all Things May he be glorified.
Benedict, with his word and example, taught mankind the primacy of divine worship, the Ora et Labora, and managed to transform the monastery into a magnetic center capable of conquering, even today, many for the Kingdom of God.
Yes, the God of St Benedict is the God who is extremely kind, praiseworthy and deserve to be served.
In the late afternoon, we went to the modern and beautiful Shrine of Our Lady of Fatima, to put in the hands of Mary the needs of the Church, of the Congregation, of our families with the Prayer of the Rosary. We pray in particular for the Holy Father admitted to Gemelli Hospital, for our sisters and sick relatives.
Thank you, friendly couple Bruno and Maria Franca, and thank you, Lord, for your Providence that always attentive, sustains our fidelity. St. Benedict, pray for us!
With the permission of Monk Ignacio of Loyola, we share his homily on this memorable day:
Dear Friends,

on this 15th Sunday of Ordinary Time, we are celebrating the Solemnity of St Benedict. St Benedict is the Principal Patron of Europe and Patriarch of the West. St. Benedict was born in Norcia in 480, and died in Montecassino in 547. Here [in Subiaco] began his monastic life, hermit in this cave.

One phrase that has always impressed me is this: "Nothing to put before the love of Christ." And when referring to the Rule he wrote, St Benedict claims to be one: "Evangelical Norm of life". A life full of Christ; a life full of the Gospel of Christ. Two things that St Benedict recommends to his sons monks are: Prayer and manual labor. Prayer as food, as a food of faith. It's food for all of us, not just monks. Manual labor to earn daily bread, as St. Benedict said, as the apostles and holy priests of the Church also said. Two things that complement each other.

"Nothing to put before the love of Christ." That's what St. Benedict did. And this is what Jesus says in today's Gospel: "Whoever left home, or brothers, or sisters, or father, or mother, or children, or fields by my name, will receive a hundred times more and inherit eternal life."

"Nothing to put before the love of Christ."  It is the question for all of us: "we, what do we leave for Christ?" What is most hard to leave is our reason, our pride, our vanity and arrogance. That's a lot to leave. More than material things, it's harder to leave things from the heart. I have said this many times: "All attachment is slavery." St. Benedict wants us to be free. When we are bound by the things of the world, we are not free to follow Jesus. And the world and society today have their disciples, so it is difficult to leave everything the world offers us. And what does the world offer? Wealth, money, pleasure, craving for power. When we're stuck with it, we're not free. We're beasts. He who obeys is free. He who is poor is free. He who is chaste is free. A word written in the Rule… Right at the beginning, in the Prologue: Listen! Sometimes we don't know how to listen because we believe we know everything. And when we believe that, we don't know anything. "Listen, oh son – he says – with the ears of the heart." A Spanish Abbot said that this is our temptation: to be masters, always teachers and never disciples. And to be disciples of St Benedict we must begin life in this way, being disciples…

May Mary, our Mother, be for all of us an example of faith, hope, love, to follow Christ who always comes!
In addition to this visit to the Benedictine Monastery in Subiaco, the celebration of the Feast of St Benedict in our Congregation was marked by many events that took place in various Communities of our Provinces.
With great care, gratitude and love for our Father St Benedict, our Communities, also through the media, have held Novena, Triduum, Eucharistic Celebrations, Community Prayers, live, publications of various texts… always showing the importance of this great Saint for our Religious Family and for the Church and asking his intercession for our world, especially for the needs faced by the world population in the face of the consequences of the pandemic of the new coronavirus.
Oh, St Benedict makes our life also a true liturgy. May we know how to execute with attention and care, with wisdom and equity, with generosity and tenderness, with dedication and enthusiasm fraternal relations so that "Nothing, absolutely nothing, will put before Christ!". Indeed, we must, with the gifts that God gives us, always serve Him faithfully (cf. Prologous).
A hug in Christ!
Sister Maria das Dores Paz / Counselor and General Secretary